The Best Solar Hot Water Systems in France
Our solar hot water systems provides around 75% plus of your annual hot water needs, reducing your energy bills and is the best carbon reducing system of all the renewable energies.
Solar thermal technology is a perfect investment for todays' energy conscious times. It's simple, effective and it works. We use a systems developed with 35 years plus of tested technology.
Our solar hot water system can be used as stand alone independent hot water system, can also be linked to an existing boiler such as the EcoPellet boiler.
WHY CHOOSE OUR SOLAR HOT WATER SYSTEM?
CHOICE OF SOLAR COLLECTORS OFFERING UNRIVALLED SUPER FAST HEAT TRANSFER

EVACUATED TUBE OR FLAT PANELS

UNIQUE OVERHEAT PROTECTION DEVICE

NEW LIGHT AND SLIMLINE DESIGN

DRY EVACUATED TUBES ALLOW EASY MAINTENANCE & REPLACEMENT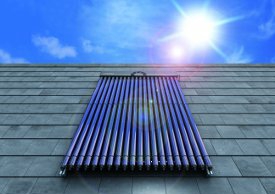 REDUCE YOUR DEPENDANCE ON FOSSIL FUELS
SOLAR HOT WATER KEY FACTS
HOW IT WORKS
A solar thermal hot water system transforms solar light into heat using the solar panel collector. Each evacuated tube panel consists of a highly insulated manifold and a row of solar tubes. The vacuum inside each tube provides the perfect insulation and protects from outside influences such as wind, cold and high humidity. The vacuum technology ensures the most effective transfer of energy producing hot water even in marginal weather conditions.
When the fluid in the manifold is hot enough, the pump station circulates the hot fluid around the system transferring the heat to the stored water inside the solar cylinder via a coil. The cool fluid returns to the panels where it is reheated and the cycle repeats.
The solar controller is the brains of the system working like a central heating programmer. If the solar panel hasn't collected enough energy to heat the hot water to the required temperature, a supplementary heat source (boiler or electric immersion) can top it up.
SOLAR CYLINDERS
Our unvented solar cylinders are designed specifically for solar applications featuring a purpose designed coil allowing maximum heat transfer of solar energy to stored water.
Stand alone systems (not linked to a boiler) have an immersion heater as back up.
Twin coil versions are used to link the solar hot water system to a boiler such as the EcoPellet. All of our cylinders come with a 25yr anti corrosion warranty.
LINK TO ECOPELLET
The combination of solar thermal with pellet heating is genious! The efficiency of wood pellet heating increases as the weather temperature decreases making pellet heating a very practical choice. Solar thermal is most efficient from late spring to late autumn when the boiler is not needed for space heating and so can potentially be switched off. Raising the temperature in a cold cylinder by even 20 or so degrees in winter, the solar is making a significant saving in fuel as this is the most fuel hungry part of the heating process. Combining the two technologies is maximising the best advantages of both.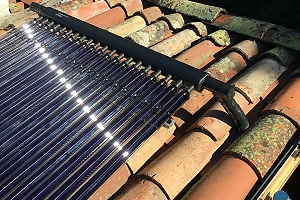 Unrivalled fast heat transfer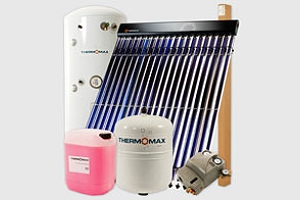 Standard & bespoke packages to suit
Designed specifically for solar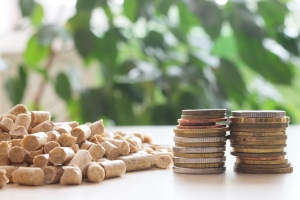 Combine technology to maximise savings